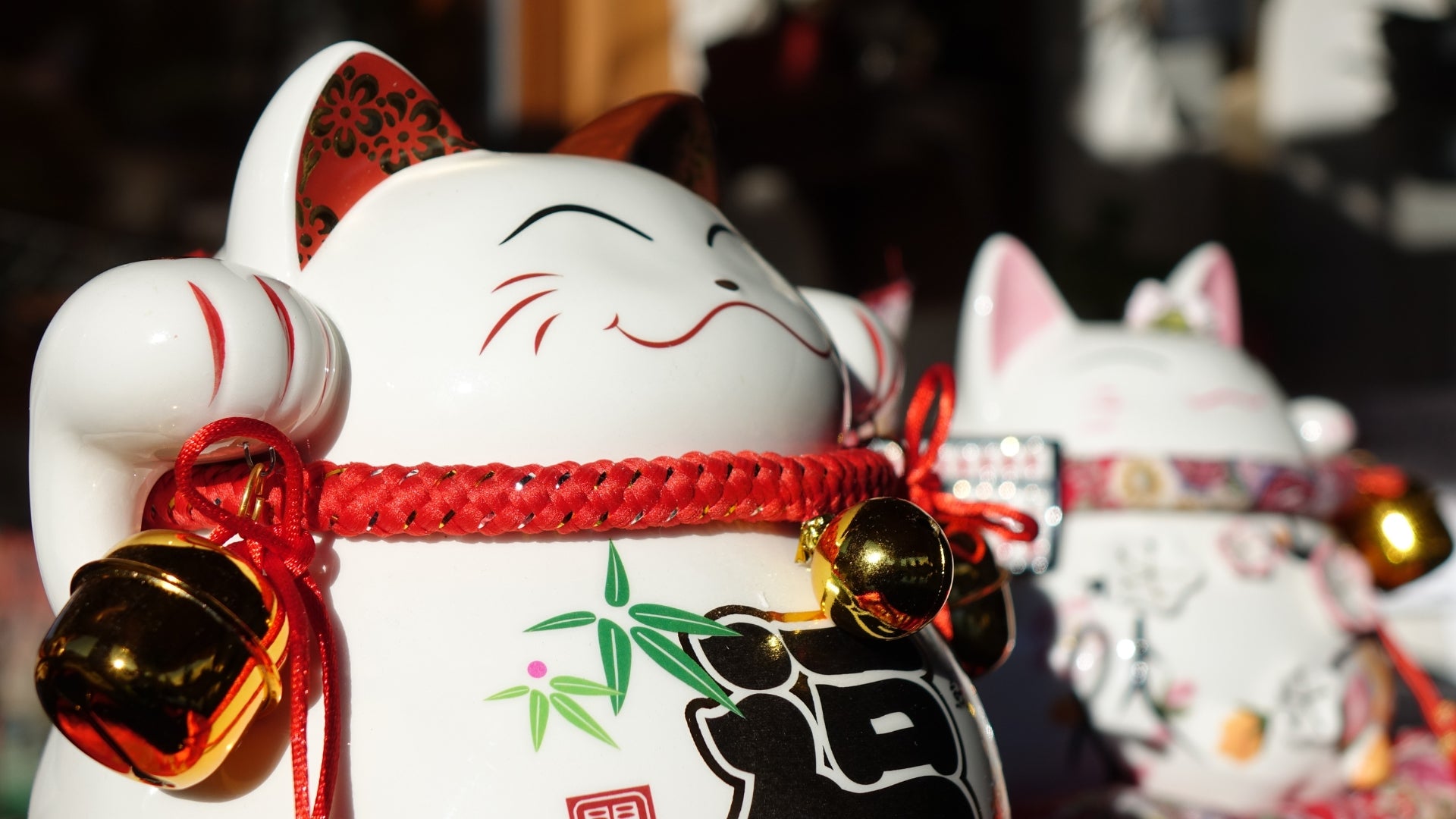 Do these cats remind you of a symbolic figure? If you thought of the Lucky/Beckoning Cat, you're right! As stated in the name, Maneki directly translated to English is actually 'beckoning' or 'welcoming'. Originating in Japan, the Beckoning Cat is a popular figure for reeling in good luck amongst Chinese businesses. Apart from the commonly used gold-coloured cat, were you aware that it comes in a range of other colours? 
Here is a quick crash course on the colours available and their significance:
white = purity/happiness
black = safety, warding off evil and stalkers
gold = wealth and prosperity
red = protection from evil & illness, especially in children
pink = love, relationships and romance
green = education or studies
As pictured, the Maneki Cats come in combinations of white and green, as well as yellow and black! Putting the knowledge we have just shared to use, you can figure out the significance of each cat. Why are their paws raised in a beckoning gesture? Well, these gestures, just like the varying colours, convey different messages. Having the left paw raised, as shown above, is meant to invite customers or people, whilst raising the right paw invites money and good fortune to your business. Additionally, having both paws raised invites protection to the home or business. Besides its auspicious qualities, these two-toned Maneki Cats are unique and add a stylish, modern kick to the room.
If you're looking for something more exotic, we have the Wooden BE@RBRICK KARIMOKU MANEKI NEKO 2 1000%, crafted by the finest artisans in Japan. Karimoku Bearbrick Figures are a special edition collectible series produced by the collaboration between Medicom Toy and Karimoku, a Japanese wooden furniture company. Karimoku brings its traditional woodworking techniques and design aesthetic to these figures, resulting in unique and highly collectible items.
Do note that these designs are exclusive to the MEDICOM TOY Tokyo Skytree Town Solamachi Store, its entrance graced with the iconic multi-coloured BE@RBRICK 3000% standing at about 2 metres tall. More information about the location can be found here!

Featured Collection

Blog Insights
Unleash your inner collector: delve into the world of bearbricks and whiskies.
Read Now
All of them come with a Japan shipping label, each bearbrick will also have a QR code label that can be scanned to verify authencity.
We are unable to accomodate returns/exchanges unless they are due to physical defects.
We've collaborated with Atome, whereby instead of paying the full amount for your purchase today, you just pay 1/3, with the rest to be spread out over the next 2 months.